The Story of John Nightly
Tot Taylor (UNBOUND)
Paperback 2019 | HB £20

and by Heyne Hardcore/Random House in Germany.
Amazon.co.uk link for Reviews of the novel:
CLICK HERE

'THE STORY OF JOHN NIGHTLY is an astonishing and iconoclastic creation . . .'
(Geoffrey Rush)
One of The 'GUARDIAN'S BEST BOOKS of 2017′
(Guardian Newspapers)
'THE STORY OF JOHN NIGHTLY is War & Peace for creatives'
(Bob and Roberta Smith)
'Music-based books I've loved recently: THE STORY OF JOHN NIGHTLY, the first novel by composer and curator Tot Taylor'
(Laura Barton: 'Q') 
'CRITICS PICK', Q-MAGAZINE: December 2017
'TOT TAYLOR'S superb novel' – MOJO: David Quantick: Aug 2018
"The men behind the music" RECORD COLLECTOR
"I've loved what I've read so far, the creativeness of it, the unpredictability, its dazzling coverage of so many ideas. Although a novel it doesn't feel like a mere 'story". 
Rob Cowan (BBC Radio 3)
UPCOMING BOOK READINGS & GIGS:
November 5: Munich
November 6: Berlin
November 7: Hamburg
November 18: Owl Bookshop, London NW5
November 23: Munich: HKW
Being a genius can complicate things…
What happens when we press record
Then play
Then delete
Then rewind
And fast forward  …all at the same time?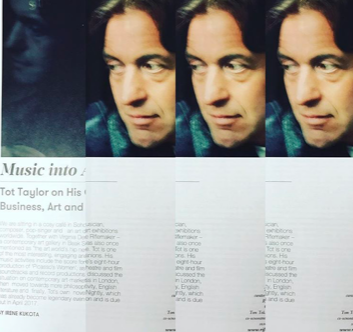 BOOK DESCRIPTION

This epic 'music novel' traces the rise and fall of a 1970s songwriter/composer from childhood to old age, from superstar to 'has-been'. While protagonist John Nightly struggles to complete his pseudo-quasi eco-Mass – the Mink Bungalow Requiem – from a smallholding in deepest Cornwall, the novel explores the wider repercussions of creativity and success.
John Nightly (b. Cambridge 1948) finds his dimension in pop music – the art form of his time. 
In previous decades, he might have been a novelist or poet, painter or a playwright. In previous centuries, a grand chef or gardener, astronomer or plant-hunter, when these occupations were revered as highly as that of 'Artist'. The book follows his rise and downfall, from Carnaby Street to Carn Point in Cornwall. His growing up and development as a musician, the tragedy of his ambition and success, followed by his subsequent withdrawal from everyday life. John Nightly's period of creation, his 'spirit-wind', lasts a mere five years. 
We meet him first as a child prodigy in 1950s Cambridge, finding fame in the London music scene of the mid-60s, then supermaxed at various retreats in Los Angeles during the '70s. John Nightly sleeps through most of the 1980s until he moves to his 'saven-heer' on the coast of Cornwall until his timely death.
In 1986, after too many 'lost years', John begins a new life as a cultivator and exporter of exotic plants but his past comes back to haunt him via the rediscovery by a superfan of his magnum opus, the Mink Bungalow Requiem – a pseudo-quasi-multimedia eco-mass which was to have been his parting shot. Meeting this teenage saviour dude, can the Master be brought back to life again? 
A tangled love story, the recording-studio as creative hub, the entertainment industry as dramatic backdrop, ascent and downfall, astronomical tables, Methodist hymnals and surfer culture as well as some serious 'gardening notes' play important parts in this 916 page novel. 
The Story of John Nightly is a work of pure fiction.
About the author TOT TAYLOR

Tot Taylor is a writer, composer, art curator and music producer. He has worked in music, film, theatre and the visual arts since being signed by Island Records whilst still at school. For the past thirteen years Taylor has been co-curator of the Riflemaker art space in Beak Street, Soho. He co-founded and curates the gallery in London (with Virginia Damtsa). Their artists have featured at Tate Modern, MoMa NY, the Pompidou Center, Paris, Frieze Masters and international museums worldwide. 
From 2006 Tot has curated a feminist art program in London, with exhibitions dedicated to celebrating unsung female artists from the 1970s, including Judy Chicago, Penelope Slinger, Liliane Lijn and Yoko Ono – influential artists whose work is now being re-appraised in the 21st century. 
The Story of John Nightly is Tot Taylor's debut novel. It was initially inspired by the many 'music dropouts' the author has encountered who, following their rise and fall are to be found driving mini-cabs, sweeping floors, digging the roads, fixing your heating, stacking shelves at Tesco or heading "back to the building site". Gifted individuals who, after being visited all too briefly by fame and creative glory, spend the remainder of their lives with dreams of a 'comeback' in menial employment when they should be creating their masterworks.   
Tot Taylor is available for interviews, features and events
info@riflemaker.org